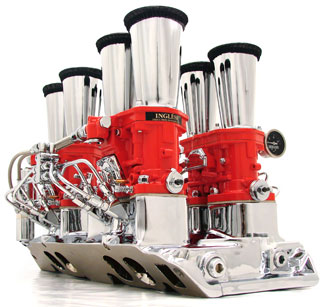 Ever popular Inglese™ Eight Stack Induction Systems are available for a wide variety of applications, including the 392 Hemi, Small and Big Block Chevy and Small and Big Block Fords that include 289-302W, 351W, 351C, 390, 427, 428 FE, 429 and 460 BBF. Taking it one step further, Inglese™ also offers systems for any other engine in existence by offering custom sheet metal intake manifolds. In addition to world class looks, Inglese™ systems also offer superior throttle response and increased low end torque.
Inglese™ also offers an affordable option to Weber carburetors by carrying 48mm and 51mm EMPI carburetors as an upgrade to the IDA systems. Any engine that is compatible with the standard Weber IDA carb will accept the EMPI carbs and use all the same mounting points and linkages.
Cast from Weber-type die cast tooling and featuring design improvements and tighter final tolerances over classic Weber IDA carburetors makes them a viable option to the original. The Inglese™ EMPI 48mm and 51mm Carburetors are designed for a wide variety of Inglese™ and other intake manifolds and can be purchased individually or as part of an Inglese™ induction system for easy bolt-on and go.
All Inglese™ systems are fully engineered and custom tailored around each customer's individual application, ensuring the jetting, linkage and setup are correct from the factory. Each system ships complete with intake manifold gaskets and chrome mounting bolts, a Unisyn tuning meter, Inglese™ tuning manual and an Inglese™ t-shirt.
All Inglese™ systems offer custom options for:
• Chrome – any part of an Inglese™ system can be chromed, including manifold, stacks, linkages and carburetors
• Paint – Inglese™ can match custom paint colors
• Stacks – stacks are available in a variety of sizes and come in brushed aluminum and chrome finishes
• Filters – filters are available in botHscreen and nylon versions and are available as sets or individually